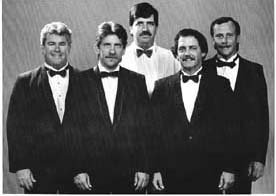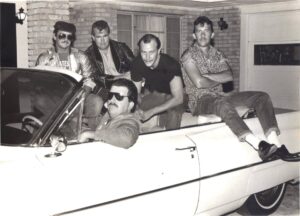 The band had its beginning as  Top-40 group named "Maiden Voyage".  The band
featured a female front vocalist, two keyboardists guitar, bass and drums.  As pictured, the original members were:
Alita Ring (Lead Vocals)
Tom Oliver (Guitar, Vocals)
Mike Parker (Keyboards, Vocals)
Ken McCoy (Keyboards, Vocals)
John Garrabrant (Bass)
Jim (Drums)
Due to personal situations regarding teh members, the group didn't last that long in this configuration.  Alita(Vocals) was replaced by Toni.  John(Bass) was replaced by Lee Siddons. In 1979 the band desired to go full-time.  Tom was then replaced by Doug Volchko; the name was changed to "Summa"

Post the "Summa" breakup in 1979, Mike and Ken, were jamming and playing small venues as a trio with an old friend, Tony Lima.
1980 – Tom joins Mike, Ken and Tony to again perform as "Maiden Voyage"
1981 – Group performs for longtime friend Jim, "Cactus Jack" Stanley's wedding.  A short time later Mike leaves the group.  He is replaced by Jim.
1983 – Mike re-joins the band: now 5 piece: Tom, Jim, Mike, Ken, and Tony.
1985 – NYE '84-85 saw conflicts arising between Jim and Tony. At the same time, Jim and Tom wanted to take the band a different direction. They wanted to return to their Rock-N-Roll roots. By mid May, Ken and Tony have left the band; replaced by Don Johnson (Drums) and Randy Hill (Bass)
Rock music was suffering an identity crisis in the mid 1980s. "Oldies" venues and themed events were popping up everywhere. "doo-wop" vocal bands were also popping up.
The band decided to jump onto this "bandwagon" by switching genres to "oldies", but not adopt the "Grease" doo-wop style. They decided to crank up the British Invasion, one-hit-wonder band tunes, and post Beatles 60's tunes mixed in with some Elvis and Buddy Holly.
They previewed the new style and band name at a sock hop on Sep 20 at "The Club", again on Halloween at Sam's Woodshed Pub,.
New Year's Eve 1985 was booked almost a year in advanced for "Maiden Voyage". This was to be the last time they performed under that name. The band performed the first set from the original repertoire. On break, they changed costumes; then announced the band's name change and new genre. The creation of "Cactus Jack and the Cadillacs" was official.