Life and music are going smoothly.... and then Tragedy strikes!
Life is going along smoothly.  The band is rockin!  Home life is good.   Then the early morning phone call from my sister-in-law.  January 14, 2010 my elder brother dies suddenly of a heart attack.  He was my only sibling.  Frank loved music. While my brother didn't play an instrument.  With sufficient amounts of beer, he did a pretty good Elvis.  RIP Frank.
September 3, 2013: another tragedy struck. Randy "Wolfman" Lobeck suffered a fatal stroke. This was an extremely tough time for the band. They had lost a friend and a "brother" who had performed with them for over twelve years. This time it wasn't just that someone retired or separated and could show up from time to time; this time it was permanent. Randy was a unique personality, a gifted musician with a generous spirit. Although receiving countless offers and inquiries from local sax players to replace or fill-in for Randy, the Cadillacs decided he was irreplaceable. They would return to the original "lean and mean" five-piece instrumentation.
Must do better... or become a tragedy myself
At the time of Randy's passing, I was grossly over-weight (obese), with very high blood pressure.  My father died of a stroke.  My bother a heart attack at 62, and now one of my closest friends of a stroke (high blood pressure).  Melanie, my son, Allen, my sister-in-law Kathy, and my niece and nephews all ganged up on me.  I was now the eldest living member of my family.  They insisted I get checked out:  stress test, blood work, "the works".  So, I complied.  When it was all done, the cardiologist told me that everything was good except being 100 lb. overweight; nothing wrong with me that getting into shape wouldn't fix.  I decided to take the advice.  I stopped by a local personal/group training gym, Club Performax.  I discussed the situation with the owner, Rod Stewart (what a coincidence that was?). One small problem: the membership was very expensive.  I stated as much.  He replied:  "Well, what's your health worth?"  So, with a lot of encouragement from my family and especially bandmate, Mike Parker, I got to work to get into shape.  A very special thank you to my personal trainer, Chris Streiff.  Thanks to he and Rod, I went from not being able to row 200m on a machine to completing the 10K, 25 obstacle Savage Race.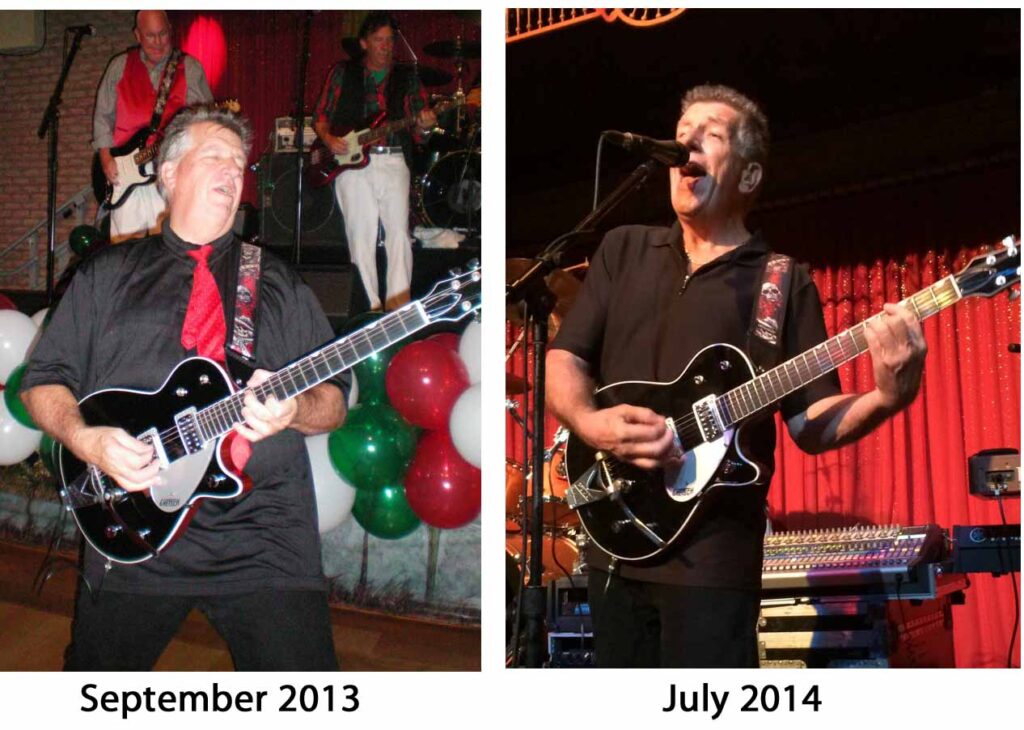 **Note:  Mike (Keyboards) and I not only ran the Savage in the morning, but went on to perform at Spanish Springs from 5-9 pm. Could have been just a bit crazy 🙂