For a couple of years, Cactus Jack and the Cadillacs' bassist, Randy Hill had been complaining of digestive distress and abdominal pain.  Randy, like Mike (Keyboards) was always health-conscious.  He kept fit, didn't over-indulge in alcohol consumption, ate healthy when possible; even when we were on road trips.  He was a good athlete; especially when it came to golf, tennis, or baseball.  Here and there he would suffer from digestive problems.  At first, the physicians were looking at acid reflux.  Later, it was thought he had an ulcer.  Unfortunately, both diagnoses were incorrect.  Randy suffered from Liposcarcoma, a type of cancer that occurs in fat cells in the body, most often in the muscles of the limbs or the abdomen.  In Randy's case, his cancer was abdominal.  March 18, 2016, after a nearly two-year battle, Randy finally succumbed to this terrible disease.
His loss hit the band especially hard. Randy 
was not simply a founding member of the band. To the remaining members, he was a brother. He was family. Randy was always there, in the pocket, a solid foundation for more 30 years. We will remember him always. Randy fought courageously against this terrible disease; playing the Villages cruise within a few short weeks of enduring chemotherapy. For almost an additional year, he continued to perform as often as possible. The band never gave up hope that he would win the battle and return. But, it just wasn't to be. We'll miss our brother 
until the day we are again jamming with him and the Wolfman in Rock-N-Roll Heaven. 
We would like to give special thanks the substitute players who helped us get through these difficult times; especially Marc Rewis (Uncle Bob's Rock Shop), Gary Martin (Paul Stott Group), and the late Jay Burns for doing such a great job in standing in for Randy.
Randy Hill:  3 Basses for three decades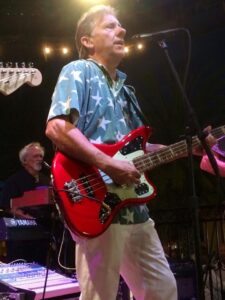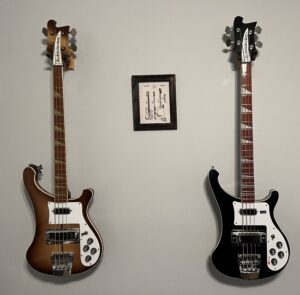 Sometime before 2012 Jim "Cactus Jack" Stanley was having one of his SOMF City band reunions at Cheers bar.  Everyone was having a great time:  Cactus(guitar(, Randy Kline(guitar), John Crain(drums), and Bob Cara(bass) were all together.  Guest stars included: Randy Hill (bass), myself (guitar), and Robbie Crouse (Guitar, Tin  House Band).  It was very late.  The crowd was yelling for the guys to  play some "Cream".  Bob and Randy were saying they didn't know those songs on bass.  I had just enough liquor to state that I used to play those songs on bass when they were new (bass was my original instrument). Bob handed me his bass, saying: "Go for it!  Let's have some fun".  So I did.  Robbie and Randy's guitar work was spectacular. We played "Sunshine of Your Love" and "Crossroads".  Received big high fives from Randy and Bob.  (Must have been the Crown Royal).  Anyhow, a while later, I told Randy that I should buy a cheap bass to plunk around on.  Randy told me to take his old Rickenbacker 4001 until I decided what to do.  That bass needed a lot of work.  While I was having fun with it, I repaired and restored it; playing around in my music room.  For my 60th birthday, my wife Melanie and my son Allen bought me the black Rickenbacker 4003 bass(right); at which time I returned the refurbished instrument to Randy.  When Randy passed, he left me the brown '72 4001.   It hangs in a place of honor.  I still pull it down from time-to-time; remembering my dear friend, Randy "Cool Daddy" Hill.